NusaSMS – LBA & Targeted SMS Blast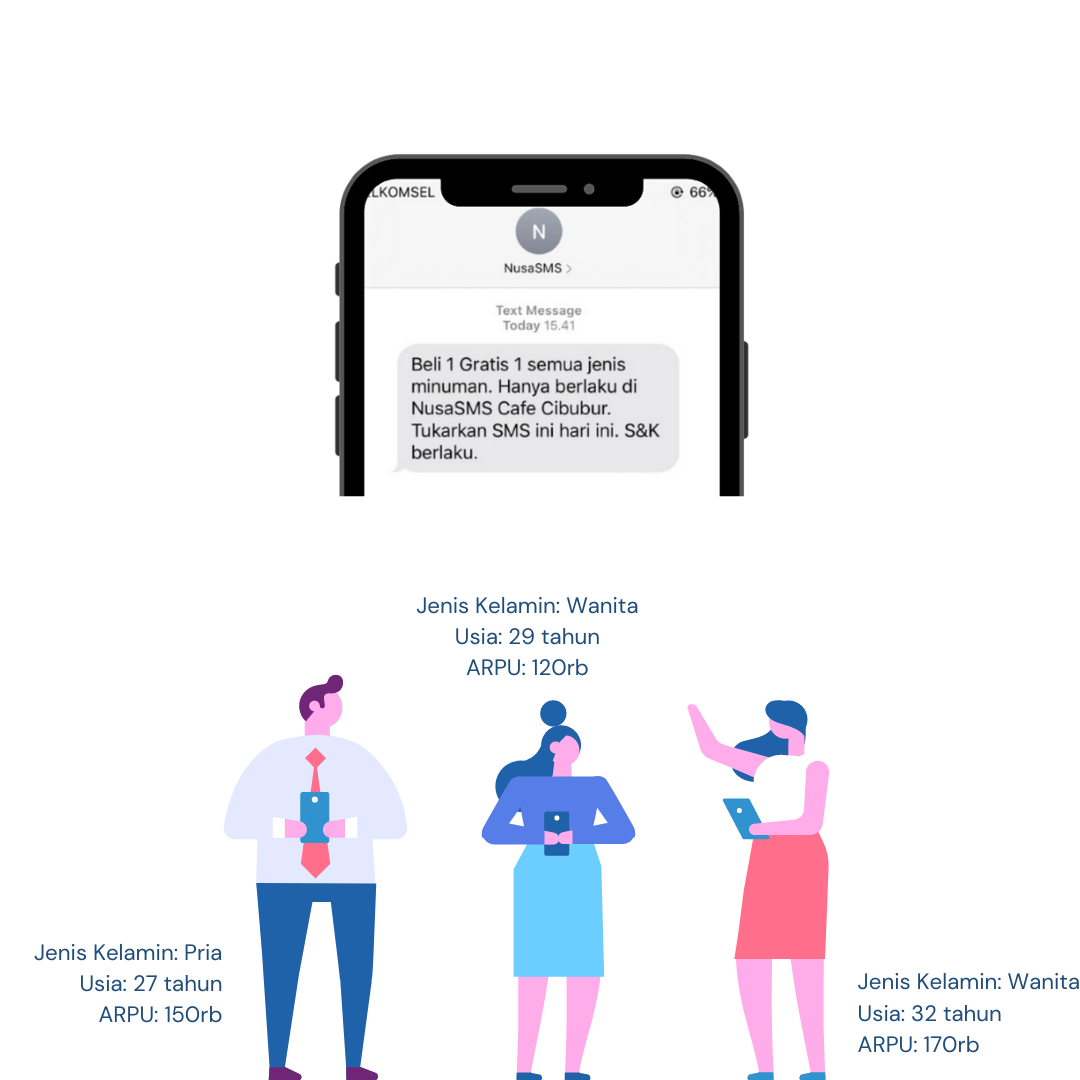 Image: Illustration of LBA and Targeted SMS Blast
LBA (Location Based Advertising) SMS
LBA SMS Blast – Sending SMS Blast at certain locations carried out by the operator according to what was ordered by the customer. This SMS can be sent by TELKOMSEL, XL, and INDOSAT operators. Example: SMS received when we are in certain locations such as malls and highways.
Targeted SMS Blast is a promotional media with SMS aimed at active cellular phone subscribers with a scale coverage of all cities in Indonesia. You can also filter potential customers that you will target as SMS recipients. Examples of filters are gender, location (region), type of cellphone, and ARPU (monthly use of pulses). The sender's identity can use your PT or product name.
BENEFITS OF LBA & TARGETED SMS BLAST FOR ADVERTISER
Your SMS delivery target can be selected based on cities throughout Indonesia.
LBA and Targeted SMS Blast can reach your new customers for coverage throughout Indonesia.
Promotion through SMS media is very effective because almost everyone in Indonesia has a cell phone, both feature phones and smartphones, and can be reached by SMS services.
The advertisements sent can be adjusted to the profile of the receiving consumer.
Save cost, time and goals.
Sender identity can use Sender ID your company or brand.
Get a resume report on the results of sending Targeted SMS from each operator you register at least 7 working days after the campaign is done.
LBA & Targeted SMS Blast Package Price*
*) Prices are subject to change at any time, subject to operator conditions.
**Minimum purchase: 2,000 SMS per operator, per location, and per day.
LBA/Targeted SMS: Telkomsel
LBA/Targeted SMS: XL, Indosat
The minimum purchase of LBA/TARGATED SMS is 2,000 SMS per operator, per day and per location.
User Sending Invoice Destination Data Information (Company Name, NPWP No. if using a tax invoice, NPWP Address, Company Address, PIC) to email sales@visioinformatika.com.
NusaSMS will send an invoice or purchase invoice to User according to the number of orders desired by User.
User pays the nominal amount that is billed on the invoice a maximum of a day after the invoice is emailed.
User sends proof of payment to email sales@visioinformatika.com.
After payment is received by NusaSMS, then we will process the LBA/TARGETED SMS order to the operator.
User must provide a Whitelist Number to NusaSMS. Whitelist Number is the number that will be sent SMS when the campaign is run and Whitelist Number follows what operator will be blasted/campaign.
User get a Report Resume of the results of sending LBA/TARGATED SMS from each operator you registered at least 7 working days after the campaign is done. The report given is the result of the global campaign, how many were successful and what was the rest, not details per mobile phone number sent by SMS.
If the report from the operator states that there are still remaining SMS, then the remaining SMS can be reused in the next LBA/TARGATED campaign with the same or different wording, the same or different location, the same Sender ID. The limit for using the remaining LBA/TARGETED SMS credit is a maximum of 1 month after the REPORT is sent.
Orders cannot be canceled and cannot be requested for a refund.
Terms of Delivery & SMS Content
The content of the LBA SMS does not contain elements of discrimination, pornography, and has the potential to offend certain parties.
USERS who use the facility SMS BLAST must have the intention to carry out legal and legal activities according to the norms and laws that apply in the territory of the Republic of Indonesia.
USERS are strictly prohibited from using the facility SMS BLAST for the following activities:

For political purposes, crime, fraud, forgery, slander, pornography, racial intolerance and terrorism.
Using harsh words, disrespectful, indecent, not in accordance with applicable norms.
Using SMS content that is against the laws and norms that apply in the territory of the Republic of Indonesia.
Harming and disturbing SMS recipients and other parties, both individuals and legal entities or institutions.

USERS are fully responsible for the negative impact or lawsuits from other parties as a result of the contents and procedures for sending SMS.
If you want to order an LBA SMS, please download the LBA FCO (Campaign Order Form) here.